Click to sign up for
our E-Newsletter


---
Jump To Section
Regulation | Open Enrollment Seminars | Other Course Options | Individual Products
Open Enrollment Seminars
This class is not scheduled for any upcomming seminars. It is available for On-Site Training, Call or E-mail us to Schedule this Course.

Optionally, you can purchas the On-Site Training Seminar Kit below.
Course Regulation
29 CFR 1910.146:
(g)(1):

The employer shall provide training so that all employees whose work is regulated by this section acquire the understanding, knowledge, and skills necessary for the safe performance of the duties assigned under this section.

(g)(2):

Training shall be provided to each affected employee:

(g)(2)(i):

Before the employee is first assigned duties under this section;

(g)(2)(ii):

Before there is a change in assigned duties;

(g)(2)(iii):

Whenever there is a change in permit space operations that presents a hazard about which an employee has not previously been trained;

(g)(2)(iv):

Whenever the employer has reason to believe either that there are deviations from the permit space entry procedures required by paragraph (d)(3) of this section or that there are inadequacies in the employee's knowledge or use of these procedures.

(g)(3):

The training shall establish employee proficiency in the duties required by this section and shall introduce new or revised procedures, as necessary, for compliance with this section.

(g)(4):

The employer shall certify that the training required by paragraphs (g)(1) through (g)(3) of this section has been accomplished. The certification shall contain each employee's name, the signatures or initials of the trainers, and the dates of training. The certification shall be available for inspection by employees and their authorized representatives.
---
The Following Topics are Covered in this Course
Regulatory Overview
What Is A Permit-Required Confined Space
Permit-Required Confined Space Hazards
Signs And Symptoms Of Exposure
Use Of Equipment
Maintaining An Accurate Count
Company Specified Program Review
Permit-Required Confined Space Permit Review
Course Review And Final Test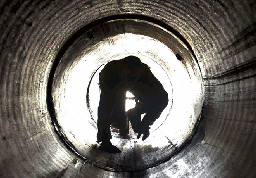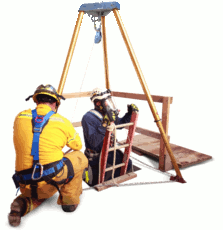 Other Course Options
Seminar Kits for Instructors
---
Self-Study Options
Online Couse Options
View the online course requirements on our Online Courses Page.
---
On-Site Training
New Environment, Inc. offers On-Site Training for this course, call or E-mail us to schedule this course.
Individual Products
Instructor Materials
$125.00
8-Hour Confined Space Lesson Plan

The Following Topics are Covered in this Course
Regulatory Overview
What Is A Permit-Required Confined Space
Permit-Required Confined Space Hazards
Signs And Symptoms Of Exposure
Use Of Equipment
Maintaining An Accurate Count
Company Specified Program Review
Permit-Required Confined Space Permit Review
Course Review And Final Test
Student Materials