Thousands of companies, universities, and government agencies are using New Environment, Inc.'s curriculum. (View our References)
It was probably the best training course I took in 20+ years just based on how well it was organized and how well the whole week was planned. The materials were absolutely incredible to be able to take back with us and I've already got some great ideas for planning and preparing my own training."
Andrew D.
"The New Environment program makes HAZWOPER training easy. As an instructor, their materials are easy to use and packed with bonus curriculum and extra training aids... The New Environment Train-The-Trainer program are the best in the industry."
Phil B.
NEI's trainer did an awesome job, one of the best instructors I have had in my career. NEI's lesson plans and products were well thought out and we are looking forward to using them.
Stephen S.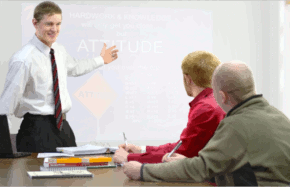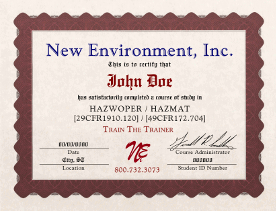 Upon successful completion of the course each trainer receives the following New Environment, Inc. certifications:
"HAZWOPER/HAZMAT

Train The Trainer

"
"24-Hour Hazardous Materials Technician"
"40-Hour Hazardous Waste Worker"
"On-Scene Incident Commander"
"8-Hour Hazardous Waste Supervisor"
---
Program Includes
Five Days of Class Room Instruction:

Includes thorough coverage of the HAZWOPER/HAZMAT subject matter and Instructional Skills Training as required by OSHA. Our tenured instructors will bring you to a solid understanding of OSHA regulations and how they apply to various industries. You will explore the content of our course lesson plans and receive instruction on how to utilize them effectively in your own training environment. View Course Agenda

A Complimentary Video Package:

This Package contains 100+ safety training videos. The Classroom Videos folder located on the flash drive includes Basic videos from the Occupational Safety and Health Administration (OSHA) and the U.S. Department of Labor (DOL). There is also a folder with accident investigation/recreation videos from the Chemical Safety Board (CSB). Every video used to teach any of our training courses is included on the flash drive.

Full HAZWOPER/HAZMAT PowerPoint:

All of our HAZWOPER/HAZMAT PowerPoint programs at your fingertips. Our PowerPoint programs are professionally designed to keep your students on track and engaged with your presentation. In addition to the primary training courses there are also dozens of topical presentations on the drive including heat stress, cold exposure, lockout-tagout, and CPC. You will also find sample site safety plans, hands on training outlines and much more. All of our PowerPoints are customizable allowing you to make the presentation your own. (View a Sample)

Detailed Lesson Plans:

A complete set of easy to use Lesson Plans covering each of our HAZWOPER/HAZMAT programs. These lesson plans are designed by our professional trainers and are the same plans New Environment instructors use everyday. (View a Sample)

You will also receive a complimentary copy of our additional course lesson plans including:

Free Access To Our My

Train The Trainer

(MyTTT) Portal:

One year access to our "My

Train The Trainer

" Portal will allow online access to supplementary and updated lesson plans, PowerPoints, and videos enabling you to keep your training materials up-to-date wherever you are!
You will also have access to heavily discounted online self-study programs. Now you can provide training solutions for employees across town or around the world.
Streamline the certification process with the new online training record submission.
---
Program Benefits
Flexibility:

New Environment, Inc.'s HAZWOPER/HAZMAT

Train The Trainer

Program gives you complete control over your training schedule allowing you to conduct classes when and where you need them. You also have freedom to customize courses to better meet your facility's unique needs.

High Quality Student Materials Are Available:

We offer a complete line of professionally designed student materials and visual aids. Available for separate purchase, our Student Materials are designed to promote learning retention and student attentiveness.

Third Party Certification:

When you use NEI's Lesson Plans and Student Material for your training we will provide you with certificates for each individual you instruct. In addition to a hard copy certificate, we will also maintain digital records of your training, ensuring you will have a backup copy of your training when you need it most.

Expert Support:

New Environment, Inc. has been considered a HAZWOPER/HAZMAT authority for over 30 years. As a NEI Certified trainer you will be able to contact us with your health and safety training questions; we can help you find the answers you are looking for.

Peace of Mind:

Because you will be conducting your own training courses you can have confidence your students have been trained in the areas vital to their specific job function. Our courses are designed to give you the support you need to achieve and maintain regulatory compliance.
---
Course Regulation
This course is intended to improve the instructional skills, abilities, and knowledge of HAZWOPER/HAZMAT trainers. Participants will be required to present at least one 30-minute training segment on a health or safety topic chosen during the course. Approval as a Trainer is required through 29 CFR 1910.120 (e)(5) & (q)(7).
29 CFR 1910.120: Qualifications for Trainers:
(e)(5):

Qualifications for trainers.

(q)(7):

Trainers.

Appendix E - (3):

Instructors.

Instructors should be deemed competent on the basis of previous documented experience in their area of instruction, successful completion of a "train-the-trainer" program specific to the topics they will teach, and an evaluation of instructional competence by the Training Director.
---
The Following Topics are Covered in this Course
29 CFR 1910.120 Regulatory Overview:

(e)(3) through (e)(9)
(q)(6) through (q)(8)
Appendix E (3)

General Hazard Awareness / First Responder Awareness Course Presentation
Hazardous Waste Worker / Hazardous Materials Technician Course Presentation
Procedures For

Train The Trainer

:

Student Classroom Materials
Ordering Classroom Material Procedures
NEI Online Portal Paperwork Submission
3rd Party Certification Procedures
Explanation Of The

Train The Trainer

Classroom Material:

Binder Layout & Use
Reference Materials
NEI Instructor Toolkit

Basic Safety Training / First Responder Operations Course Presentation
Hazardous Waste Supervisor / On Scene Incident Commander Course Presentation
Instructor Presentation Skills training is conducted throughout the course. Each trainee will be given the opportunity to personalize their copy of the instructor lesson plan(s) and conduct at least one 30-minute presentations on a course topic.
Timelines for the course presentation may vary according to student questions and site-specific priorities.