Training Just Got Easier!
Was
$595.00
Now $295.00
New Environment Inc.'s new C.E.R.T.S. Program now gives you more control over how your training classes are conducted. Using our C.E.R.T.S. program your students now have the ability to complete their training using our "Self-Study" courses. These courses can be used by your trainees in an individual self-paced format or as part of your overall training program. They are a special voice-over version of the training courses that have been broken down into instructional modules. Simply hand the student a course workbook and the C.E.R.T.S. CD, when the course is done they will bring completion paperwork back to you for transmission to NEI.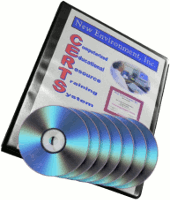 With the C.E.R.T.S. Program you also gain access to our library of online training courses! For the same price as a set of classroom student material you can have a student go through an online version of the course anywhere in the world. This online version offers you another level of control as you don't need to provide a workbook to the student and you are able to track their progress through the course. All the required paperwork for certification is sent to NEI automatically when the course is completed.
The flexibility of the C.E.R.T.S. package allows you to quickly and efficiently train employees who are unable to attend one of your live training seminars. You will save time and money by allowing students to take all or part of the training on their own. Upon completion you receive the same third party certification from New Environment as you receive when you teach a live class.